Following the call to bring people to a closer relationship with Jesus, Faith Formation promotes, nurtures and offers life-long formation for those ministering to children and adults by providing courses on faith formation and catechetical topics, catechetical certification and retreats in both English and Spanish. Faith Formation also oversees the implementation of policies of Catholic Faith Formation for parishes in the Archdiocese of Seattle.
Catechetical and Lay Formation Programs
Pre-K to High School Religious Education
Sacramental policies and preparation
Approved resources and information on catechetical preparation for the sacraments of penance, first Communion, baptism, confirmation and the Rite of Christian Initiation.
In late 2019, the Archdiocese of Seattle made the transition for the age of Confirmation from eleventh grade or sixteen years of age to seventh grade or the equivalent age. In order to help our parishes with the transition process, the Confirmation policies were revised (above) and a variety of resources were made available in order to facilitate the various programs and age levels in our parish communities. Please visit the Confirmation Revision page for more information.
Catechist Tools and Resources

Date:
June 8
Time:
9:30 am – 12:00 pm
Location:
Online
As catechists, we are not teachers of a subject, but rather, we are facilitators of an encounter with Jesus Christ. In order to facilitate these encounters with the Divine, we need to prepare hearts and minds, inviting those we teach to experiences that are not merely informative, but are truly transformative. In this virtual seminar,…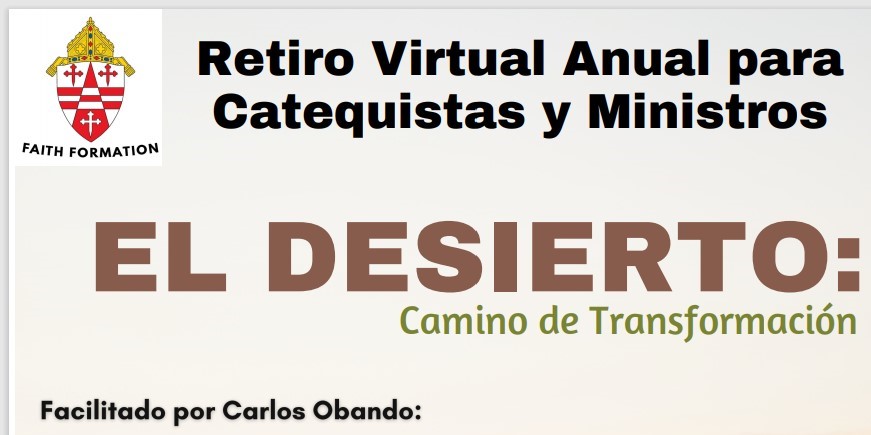 Date:
June 19
Time:
9:00 am – 1:00 pm
Location:
Online
Un retiro para los coordinadores de los programas de Formación en la Fe y de Preparación para Sacramentos, así como para los que están tomando el curso de Certificación Catequética. Recibirá confirmación por correo electrónico al finalizar su inscripción. Este retiro estará facilitado por Carlos Obando quien tiene una extensa experiencia dando retiros en el…
Invite Ron to present on a variety of faith formation topics for your parish or faith community.
Lay Ministry Clearance Information
Receive Faith Formation news
Join our mailing list to receive our monthly newsletter, along with other faith formation happenings!

Faith Formation newsletter archive

Tech Tools for Catechetical Leaders
Find helpful resources to make your online formation classes, meetings and events successful. Tips on how to prepare for an online event, templates, and other curated resources can be found here.
Follow Faith Formation on social media