Information and resources for the holy sacrament of marriage and marriage preparation in the Archdiocese of Seattle.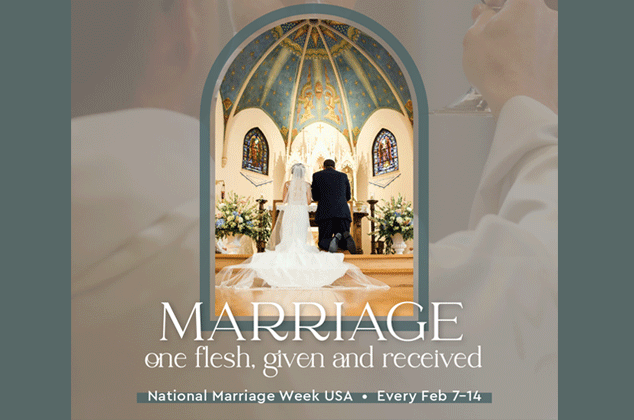 National Marriage Week, February 7-14
National Marriage Week (February 7-14) and World Marriage Day (Sunday, February 12) are an opportunity to "focus on building a culture of life and love that begins with supporting and promoting marriage and the family."
Visit the USCCB National Marriage Week website for resources for your parish and your home.
Download a daily prayer for married and engaged couples, which Archbishop Etienne's parents said every day. "I cannot begin to share the impact upon all of us kids and grandkids seeing and hearing Mom & Pop daily pray together." — Archbishop Etienne
Frequently asked questions
Resources for strengthening your marriage
For Your Marriage helps couples at all stages of life to understand and live God's plan for happy, holy marriages by providing educational and spiritual resources. The website was launched in 2007 as part of the USCCB National Pastoral Initiative for Marriage. Visit their Marriage Enrichment page to view their wonderful collection of articles and other materials. 
National Marriage Week USA seeks to mobilize individuals, organizations, and businesses in common purpose to strengthen marriage in communities and convey what the social science clearly tells us: marriage leads to greater wealth, health, longevity and happiness.
Marriage Encounter is a weekend for married Christian couples who value their relationship and desire a richer, fuller life together. Online retreats are available!