Healthy tech use starts at home
When we help our children cultivate a strong faith life, we are equipping them to be less vulnerable to developing unhealthy attachments to things such as screens. Below are some resources from the Office of Marriage and Family Life to help your family manage technology and put faith first in the home.
The Great Conversations video was created by the Archdiocese of Seattle Office of Marriage and Family Life as a resource for parents who are raising kids in today's age of technology. It offers helpful advice in making room for God in the home and in the hearts of our family members, especially our children.
You can also download the printable Great Conversations Cheat Sheet for practical steps you can take to help your children grow in their relationship with God and with others. You will also find helpful conversation starters that you can use when talking to your children about their faith.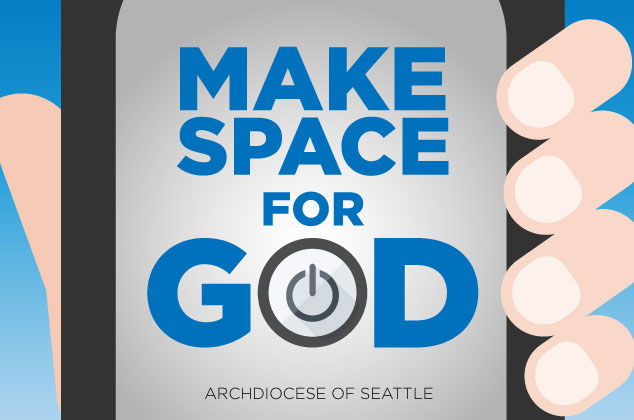 What does it mean to Make Space for God? 
It means intentionally limiting our time with devices so that we can enjoy more time with God and with others.
It means choosing to disconnect from distractions so that we can reconnect with our faith and family.
It means setting aside time to be away from technology so that we can turn our hearts more fully to the Lord.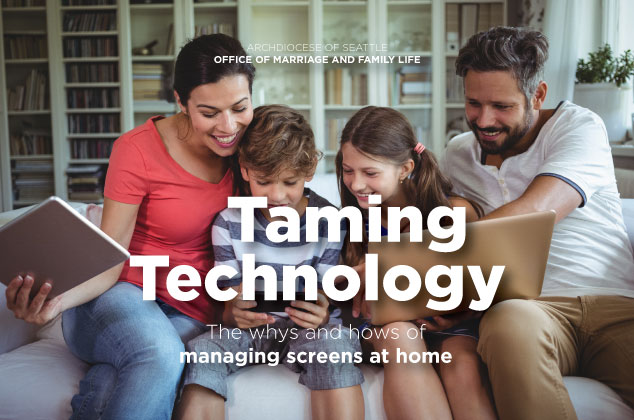 A presentation by the Archdiocese of Seattle Office of Marriage and Family Life
Taming Technology is a presentation that offers practical ways to manage screen time in the home and Make Space for God in your life. Parents will take away helpful strategies for teaching their families to use technology in a healthy way.
Download our free resource to start creating a more balanced approach to technology in your home.
Click below to inquire about bringing this presentation to your parish or school!
God first, then people, then things
In On Christian Doctrine, St. Augustine teaches that God made us for relationship and our spiritual health depends upon us by getting our priorities straight when it comes to three types of relationship:
With God, who we should love above all things. This relationship defines and orders every other relationship in our lives.
With people, who we should love for their own sake. These relationships should be ordered in priority based upon their closeness to us and how God has called us to care for them (c.f. Book 1 #28)
With things, which may be used. We may use creation, but always with a reverence that recognizes that what God created is good and should be stewarded with care.
Our faith helps us to become aware of God's presence in our lives and to grow in our relationship with Jesus who redeems and sanctifies us in ways that we could never manage on our own.
Ultimately, as parents, the best thing we can do for our children if we want them to set aside unhealthy attachments to things like screens in favor of good relationships with God and other people is to help them grow in faith. By understanding the faith, participating in the sacraments, following the commandments and learning to pray, we grow in relationship to God and other people.