Over the past couple of decades, the Archdiocese Archives have acquired about 300 rare books, many donated by seminary libraries, clergymen, and congregants, in the hopes they will be cared for and used by others. Prior to this project, they were not discoverable to a wider audience due to being uncatalogued and placed in storage. This project aimed to create a descriptive catalog of materials and unveil the full extent of the collection.
In 1988, Sister Ellen Waddell, the librarian at St. Thomas Seminary, dedicated a donated book to the collection by writing "For community collection 4th floor after my 'going forth,' to be used and enjoyed." This note encapsulates the sentiment behind the goal of offering access to more people. With a completed catalog of the rare materials housed in the Archdiocese Archives, these books are now available, as Sister Ellen said, to be used and enjoyed.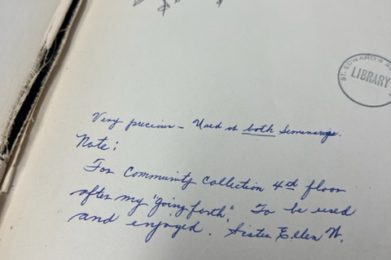 Texts are often a large part of religious ritual. The Rare Books collection includes books such as this Canon Missae, likely used in a local mass prior to 1970. Other such texts include hymnals and books of hours. These books are examples of material culture within the Catholic faith. 
The Canon Missae, otherwise known as the Canon of the Mass, pictured here includes elaborate illustrations in color and with gold leaf, musical notation, and fabric tabs indicating various prayers.
A lot of the collection is made up of books donated from the St. Thomas and St. Edwards Seminary Libraries, both of which closed in the 1970's, leading librarians to redistribute their collection. These libraries primarily provided reference resources to the Church. Most of these books are didactic and philosophical, with dates ranging from the 1700s to the early 1900s. Examples of these texts include:
Texts bound in vellum

Multi-volume theology collections

Books donated from overseas missions

Biblical commentaries
The collection includes many different Bibles dating back to as early as 1647. These Bibles vary in size, intricacy, and language. Some are large with elaborate illustrations, ornate binding, and made from various materials. Others are smaller, made for everyday use. The collection also represents a wide range of languages, including:
English

Latin

German

Polish

Hebrew
While most of the collection's books were used in seminary libraries or as decorative pieces, some books are as small as 12cm. These books were used for easy portability. For example, individual books of the Bible were printed at this size for everyday use. Alongside these, the collection also includes small theology texts in pocket size.
The collection includes handwritten texts, likely written by members of the church. All of these texts are written in Latin and are presumed to be a kind of dissertation or other scholarly work. These are unique because they are likely the only copy of these texts that exist.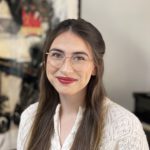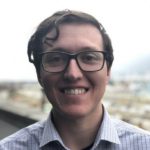 About the Project and Team
Kenzie Brown and Eric Flores worked on cataloging this collection from January 2023 to May 2023 as part of their capstone project for their Master's of Library and Information Science degree at the University of Washington. This project included taking inventory, organizing, and cataloging the entire Rare Books Collection held at the Seattle Archdiocese Archives. The goal of this project was to identify key materials and make the collection discoverable to a wider audience.